It's this time of the year. As 2019 draws to a close, it is time to reflect on this year's achievements and layout plans for the next year. In 2019, we did a lot of things:
The first version of our own XMPP server was released, with many improvements to protocol, most notably, brand new group chat, quick device synchronization and device management
The web version of Xabber grew a lot, adding tons of capabilities like voice messages, VoIP calls, screen sharing
iOS version of Xabber is almost ready for release. While we were aiming to release it this year, it just wasn't that ready for release. On release, it'll support all the capabilities of more advanced versions of Xabber
Android version of Xabber is growing strong, too. While being set back by a lot of technical debt, we're almost finished with an amazing redesign of an app that will make it look extremely beautiful, while also adding voice messages: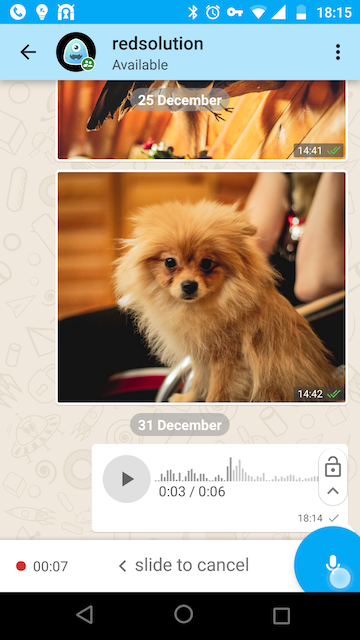 Needless to say, all of it is open-source and is available for free, for everyone.
So, what do we plan to do in 2020? In two words, a lot:
release a new version of Xabber server, with LDAP support. Also, expect many plugins and extensions
finally release iOS version, early in 2020. Apple users have suffered long enough without a single decent XMPP app!
double down on Android version, to make it catch up with our more modern iOS/Web versions
release a desktop version of Xabber, based on our excellent Xabber for Web app. Of course, for now it'll be Electron-based. Native desktop apps will come once we acquire funding to develop them
release a website live chat service, based on our group chat protocol, to make live chat possible using stock XMPP apps
add modern encryption support to all versions of Xabber
With this, we wish everyone a happy new 2020!